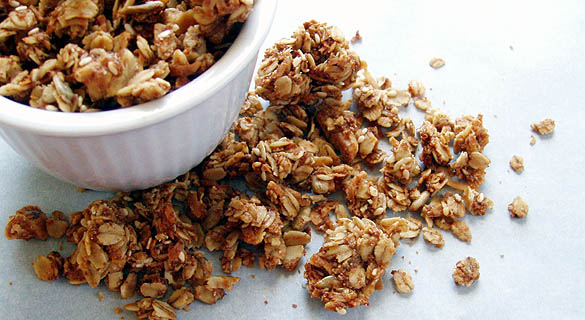 Some great hints here, included in article by
Marlene Parrish
(recipes below)
Baked Honey Granola
2 cups rolled oats, uncooked
1/4 cup brown sugar
1/4 teaspoon cinnamon
Pinch salt
1/3 cup slivered almonds, chopped
1/4 cup honey, warmed to liquid
1/4 cup light olive oil (or 4 tablespoons butter, melted)
1/2 cup golden raisins or other dried fruit
Preheat oven to 325 degrees. In a large bowl, combine oats, brown sugar, cinnamon, salt and almonds. In a glass measure, warm honey until it is no longer viscous. Add olive oil (or melted butter) to the honey and stir.
Drizzle the honey-oil over the dry ingredients and mix to combine. Spread the mixture on a baking sheet or in a 9-by-3-inch pan.
Bake granola until golden and crunchy, stirring once, anywhere from 15 to 25 minutes. It will depend on your pan. Stir in the raisins. Makes about 3 cups.
Big Batch Granola
1 box (6 cups) rolled oats
1 cup chopped nuts
1 cup wheat germ
1/2 teaspoon cinnamon
1/4 teaspoon salt
3/4 cup honey (or honey mixed with maple syrup)
1/3 cup oil, any kind
1 teaspoon vanilla
1 cup dried fruit, optional
Preheat the oven to 300 degrees. Combine the first 5 ingredients. Warm the honey, add the oil and vanilla. Drizzle the honey-oil over the dry ingredients and toss to coat. Spread the mixture onto 2 cookie sheets. Bake about 30 minutes until golden, stirring every 10 minutes.
When done, remove from oven and stir in dried fruit if used. As the granola cools, it will lose its stickiness and become crunchy. Makes about 9 cups.
Adele Davis' Grandaddy of Granolas
5 cups rolled oats
1 cup each of chopped almonds, sesame seeds, sunflower seeds, shredded coconut, soy flour, powdered milk (preferably non-instant), and wheat germ.
1 cup warmed honey
1 cup oil, any kind
Preheat
the oven to 300 degrees. Combine dry ingredients. Combine honey and oil and drizzle over the dry ingredients tossing and coating. Spread the mixture on 2 cookie sheets and bake for 30 to 45 minutes until golden. Makes up to 12 cups, depending what you add or leave out.
Hints I took out of her article:
- Basic Recipe = rolled oats - fat- sweetner
- don't use quick cooking or instant oatmeal
- fat = melted butter, margarine, vegetable oil, olive oil
- sweetner = honey, syrup, sugar
- don't bake with dried fruits already mixed in as will cook up too hard to eat
- coconut flakes, seeds, nuts, dried fruits, cinnamon, hint of nutmeg and salt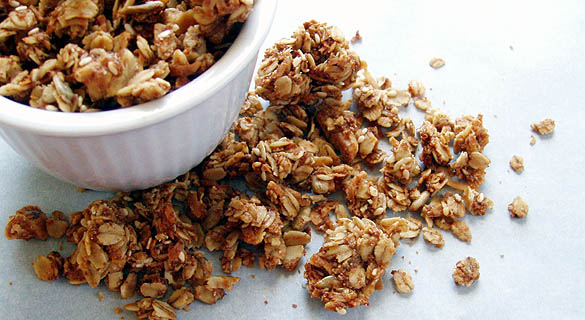 Granola
Recipe courtesy Alton Brown
Show: Good Eats
Episode: Oat Cuisine
3 cups rolled oats
1 cup slivered almonds
1 cup cashews
3/4 cup shredded sweet coconut
1/4 cup plus 2 tablespoons dark brown sugar
1/4 cup plus 2 tablespoons maple syrup
1/4 cup vegetable oil
3/4 teaspoon salt
1 cup raisins
Preheat oven to 250 degrees F.
In a large bowl, combine the oats, nuts, coconut, and brown sugar.
In a separate bowl, combine maple syrup, oil, and salt. Combine both mixtures and pour onto 2 sheet pans. Cook for 1 hour and 15 minutes, stirring every 15 minutes to achieve an even color.
Remove from oven and transfer into a large bowl. Add raisins and mix until evenly distributed.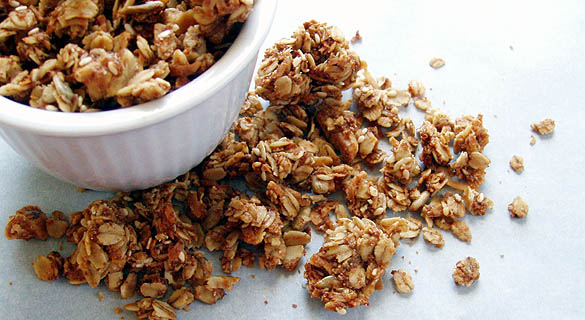 Some recipes for granola
without wheat germ
, maybe you are interested
Granola Bars
1 1/2 c. Bisquick baking mix
1 1/2 c. quick cooking oats
1 c. brown sugar
1/2 c. margarine or butter, softened
1 egg
1/2 c. semi-sweet chocolate chips,
raisins or chopped nuts
Heat oven to 350 degrees. Mix all ingredients together except chocolate
chips until moistened. Stir in chocolate chips. Press mixture evenly in
ungreased 9 x 13 inch pan. Bake until center is set, 15 to 17 minutes.
Simple Granola Bars


* 1/2 cup margarine
* 8 packets (or more if you wish) low calorie sweetener
* 1 1/2 cup quick rolled oats
* 1/4 cup light corn syrup
* 1/2 cup chopped dates
* 1/2 cup sweetened flaked coconut
* 1/4 cup roughly chopped peanuts
- Place margarine in an 8-inch square, microwave-safe baking dish. Microwave until the butter is melted.
- Stir in sweeteners until dissolved. Stir in the rest of the ingredients. Press the mixture firmly into the dish.
- Microwave for three to five minutes or until lightly browned.
- Let the cookies cool and then cut them into bars with a sharp knife. Wrap them individually to pack in a lunch.
Sugar Free Almond Granola Bars
Yield: 16 Servings
1 1/2 c Rolled oats
1/4 c Oat bran
1/4 c Finely chopped almonds
1/2 ts Ground cinnamon
2 tb Vegetable oil plus
1 ts Vegetable oil
1/3 c Honey or Fruitjuice Concentrate
1/2 ts Vanilla extract
1/4 ts Almond extract
Preheat oven to 350 F.
Spray a baking sheet with non-stick spray.
Combine dry ingredients in a large bowl.
Combine remaining ingredients and add to dry mixture.
Mix until all ingredients are moistened.
Press mixture into a rectangular shape 7 inches wide and
nine inches long. (Wet hands or use one hand and a damp
spoon.)
Bake about 12 minutes.
Remove from oven and cut into 16 bars using a sharp knife.
Separate bars slightly and return to oven for 3 to 5
minutes more.
The browner the bottom of the bars, the crisper they will
be when cool.
The edges will crumble slightly when cut - set aside for
a snack.
Remove to a wire rack to cool.